www.cvs.com/otchs/devoted | Devoted Health OTCHS MyOrder
www.cvs.com/otchs/devoted | Devoted Health OTCHS MyOrder
Login | Register | Enrollment
Welcome to the assistance page for:
To place a CVS OTC Health Solutions order over the phone call: 
1-888-628-2770 (TTY 711)
MEMBER SERVICES Contact Line: 
Please first call the number found on the back of your member ID card for accurate and faster service. 
Company Summary:
Devoted Health is a HMO plan with a Medicare contract. It was launched in 2017. Devoted Health gives its members benefits such as: rides to medical appointments; allowances for hearing aids, eyeglasses, fitness classes, and wearables such as the Apple Watch; and no-cost visits to see their primary care physician. It also offers no cost allowance for Over-The-Counter (OTC) products.
Their goal is to provide benefits or arrange for benefits to be provided to those who are eligible and enroll or sign up. The company has offices in Waltham, Massachusetts, Miramar, Florida, and Houston, Texas. 
By submitting this form, you are consenting to receive marketing emails from: HealthManagementCorp (HMC). You can revoke your consent to receive emails at any time by using the Unsubscribe link, found at the bottom of every email. By using this form, you acknowledge that you have read and agree to the Privacy Policy and Terms & Conditions.
What is the CVS OTCHS Over the Counter Benefit?
The Devoted Health Plan has a supplemental over-the-counter (OTC) benefit that allows members to order OTC medications through CVS at no additional cost. A preset dollar amount or allowance is provided. This benefit will help with the cost of necessary health care items that are not covered as a medical or pharmacy expense under your plan. In addition, it can help you save money on a wide selection of CVS-branded products like pain relievers, cold medications, first aid supplies, dental care and much more.
Why use the OTC benefit?
You Will Save Money — Members can get OTC items they need without spending money out of pocket. Get an allowance per each quarter to use on a wide range of health-related items such as cold remedies and personal care items.
Easy Access — OTC orders are delivered straight to members' homes. No need to drive anywhere.
Save Your Time — One less trip to the pharmacy means members get to spend more time on what matters most.
Shipping is FREE — There are no shipping or handling fees.
No Extra Costs!
These products are all provided at no extra cost but by using a credit / pre-determined allowance provided under the benefit. The orders will be shipped to their home at no extra charge.
Currently Devoted Health works with OTC Health Solutions to allow their members to take advantage of their OTC benefit. The OTCHS online program makes it possible for millions of current eligible plan members to easily order items using their home delivery services. Members who are eligible for this health benefit program are able to order over-the-counter products online from the comfort of home by going online, calling an order in or mailing it in.
With this supplement benefit, their members can order items such as:
Cough and cold allergy medicines
Vitamins
Medicines for the eyes
Pain medicine
Products for the stomach and bowel
First aid care
Hygiene products
Mosquito spray
Mouth and teeth cleansing products
Skin care
& a lot more!
These products are all provided at no extra cost when part of an eligible plan. They simply use credits / a pre-determined allowance provided under the benefit. The orders are shipped to their home at no extra charge.
There are three ways that members of this program can submit their prescription orders:
Eligible members can go online (see below on how to set up an account). This is the fastest, easiest, and most convenient way to order 24/7.
Eligible members can call over the phone: 1-888-628-2770
Eligible members will be able to visit participating CVS stores in Texas by April 2020.
DO YOU QUALIFY?
You will need to make sure you check your plan's Summary of Benefits of your personal current plan to confirm if a plan offers this benefit. If it does, you must also check the plan's specific OTC allowance frequency, as it can be either monthly or quarterly. The allowance amount varies and depends on the plan. You may call the number provided at the beginning of this article for direction.
Only some plans include a quarterly allowance. The credits can be used to pay for select over-the-counter medications and supplies, including allergy medication, digestive health treatments, first aid supplies, pain relievers, and more. If your plan includes this benefit, review your Evidence of Coverage to find your exact quarterly allowance amount.
NOTE: please visit the site directly to verify the details and obtain more information. 
https://www.devoted.com/plan-documents
https://www.devoted.com/2020-devoted-extras-preview/
NOTICE:
This information is not a complete description of benefits available. Contact the company directly for more information about their plans.
If you need to access the sign in or registration page, follow the easy steps below. We have provided a quick guide for you to find out how you can sign in to a current account or activate a new online account and gain access to manage it online. Be sure you have your personal information on hand.
What you need to register / sign in to a Devoted Health Medicare Advantage Health Plan OTC Health Solutions CVS Health account online:
Internet Access
Member ID information
Personal information
Email address
Below are the steps you need to follow to register for a new online account:
Visit this link in your preferred internet browser on your device.
Click on the red and white "Create account" button located under the "First-time visitor?" section and you will be directed to this link.
Type in your Member ID in the field provided.
Type in your date of birth in the field provided.
Enter your zip code in the field provided.
Enter a valid email address in the fields provided.
Create and type in a password in the fields provided.
Click on the red "Continue" button.
Continue to move forward and provide all the required information until you receive a successful registration confirmation.
If you successfully registered you will receive an email verification showing that all is good with your registration. You will now have full access to your online account and can begin taking advantage of the DevotedHealth CVS OTC Health Solutions online pharmacy benefits that your plan includes if you qualify.
Below are the steps you will need to follow to login to a current account:
Visit this link in your internet browse on your device.
Type in your Member ID OR Email Address in the field provided.
Type in your current Password in the field provided.
Click on the red "Sign in" button.
Begin managing your online account.
Important Useful Tips for creating / processing / submitting your order:
It is extremely important to note that you will only be allowed to place one (1) order at a time depending how long each benefit period lasts our plan offers the allowance. No partial orders are allowed. You must submit the full order at once or lose the remaining balance. 
Any and all unused benefits will expire; they will NOT roll over to the next benefit period. Also, you will not be allowed to request a partial or submit multiple orders. Because of this, you will need to make sure to submit a complete order of all the items you need for the benefit period when submitting your order online or over the phone.

You are not allowed to order more than your allotted benefit amount. For example: if your total benefit is $20 and your order total is $20.95, you will have to delete or remove items from your order to bring the order total back down to be within the allotted benefit amount in order to submit the request. You will need to make sure that the total amount due is within your allotted monthly benefit amount.

There is no limit on the number of items you can order. However there is a restriction on the quantity limit per any single item, per order which is generally five (5). The only exception is for Blood Pressure Monitors, which are limited to one (1) per year.
It will take 7-10 business days for you to receive the items you ordered. The items will be mailed directly to the home address that you provide at no extra charge.
RETURN POLICY: If you receive any damaged items you can return them within 30 days. They will then replace it with the same item. No other returns or exchanges are allowed.
NOTE:
Some CVS Pharmacy stores have a special OTC section. You will be able to find items marked with a sign that reads OTC Benefit Products or OTC Health Solutions. Simply choose your products from those shelves and take them to any register.
If your local CVS Pharmacy does not have a special OTC section then simply bring your OTC Health Solutions catalog to the store so you know which items you can buy. Then, look for items with blue tags on the regular store shelves: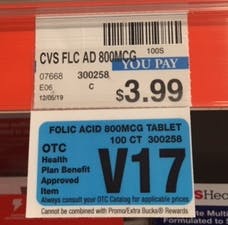 2021 Devoted Health Plan OTCHS CVS OTC Catalog / Catalogue:
MAIL ORDER FORM:
If you are ordering by mail: Please follow the instructions to complete the order form. Mail it to the address listed on the form.
 NOTE: 
The old login links were as follows:
devoted.otchs.com
myorder.otchs.com
http //myorder.otchs.com
If you still have questions about your plan, you may call the phone number found on the back of your health plan member card.
Member Services Phone Number: 1-800-DEVOTED (338–6833) TTY: 711
Devoted Health Plan Over-the-Counter (OTCHS) Video Summary:
Frequently Asked Questions
Does CVS do OTC?
Yes. Depending on the Medicare / Health Plan, members can purchase they OTC products at CVS.
Can I use my OTC card online at CVS?
Yes. By visiting cvs.com/otchs/myorder/storelocator you can find a store near you. Or you can download the CVS app and order at the pharmacy.